May 27, 2019
first promo video shows xiaomi redmi k20 pros best features in one minute
The first promo video will tell you everything you want to know about the new Redmi K20 Pro in just one minute. It's the first flagship phone from Redmi and, interestingly, it tops the Xiaomi Mi 9 in some aspects while keeping the price lower.
The video covers all the highlights of the phone – from the flagship Snapdragon 855 chipset and Game Turbo 2.0 to the 48MP main camera and 20MP pop-up camera. That pop-up camera is where the K20 Pro comes out ahead of the Mi 9 (no notch on the same size Super AMOLED screen).
There are other advantages too, like the larger battery (4,000mAh vs….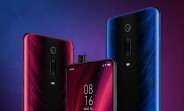 Link: https://www.gsmdb.com/gsmarena/first_promo_video_shows_xiaomi_redmi_k20_pros_best_features_in_one_minute-news-37255.php