May 25, 2019
asus zenfone 6 in for review
Is Asus the new OnePlus? The Zenfone 6 will launch at €500, a price point that OnePlus hasn't hit since the 5T. Not to mention that it offers features that fans have been clamoring for.
Yes, there's a microSD slot, a 3.5mm headphone jack, a huge battery (5,000mAh), a notification LED too. All those are things that major players – Apple, Huawei and Google – have "outgrown" in their flagships, only Samsung seems to be holding down the fort. And Asus.
Even mostly pure Android – not One as Asus wanted to include some value-added features, but still free of the burden of a heavy skin….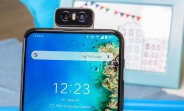 Link: https://www.gsmdb.com/gsmarena/asus_zenfone_6_in_for_review-news-37195.php