May 23, 2019
playdate is a unique handheld gaming device from the creators of firewatch
Panic, known for creating quality Mac and iOS software, such as Coda and Transmit, as well as the popular game Firewatch, has announced a new handheld gaming system that will be released in 2020.
Called the Playdate, this portable console is possibly the most unique device of its kind that isn't meant to compete with other consoles but just to while away time between other activities.
Playdate design looks mostly similar to some of the other handheld consoles. It has a screen, some buttons and a. crank. But more on that later.
The display is 2.7-inch, black and white low power…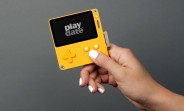 Link: https://www.gsmdb.com/gsmarena/playdate_is_a_unique_handheld_gaming_device_from_the_creators_of_firewatch-news-37190.php