May 23, 2019
fujifilm gfx100 is a 10000 medium format camera with 102mp sensor
Fujifilm has announced a new medium format camera. Called the GFX100, this new body comes with a 102MP sensor, built-in image stabilization, phase detection AF and 4K video recording.
At the heart of this beast is the new 102MP 55mm medium format sensor. A medium format sensor sits between the standard 35mm full frame sensor and a large format sensor. These sensors are normally used in cameras that have much more professional applications and often required for printing on a massive scale, such as for billboards.
Coupled with the 102MP sensor is the Fujifilm X-Processor 4 processor….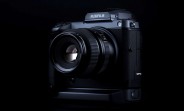 Link: https://www.gsmdb.com/gsmarena/fujifilm_gfx100_is_a_10000_medium_format_camera_with_102mp_sensor-news-37198.php