May 20, 2019
our motorola one vision video review is up
The One Vision is the first smartphone from Motorola with a radically different design – one that departs from the circular camera bump around the back. The One Vision is also the first to use a hole-punch camera instead of a notch at the top of the display.
The display itself isn't terribly color accurate, but maximum brightness is pretty good, and the contrast is automatically adjusted for viewing in direct sunlight.
This is a 6.3-inch IPS LCD with a super-tall 21:9 aspect ratio which makes it a little harder to watch the standardized 16:9 video format.
The phone itself is…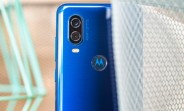 Link: https://www.gsmdb.com/gsmarena/our_motorola_one_vision_video_review_is_up-news-37154.php