May 20, 2019
cardinal red versions of samsung galaxy s10 and s10 surface online
Red versions of the Samsung Galaxy S10 and Galaxy S10+ have leaked again. Back before the official announcement, we saw a Cinnabar Red paint job that never came to fruition. Now a different red hue has leaked.
Samsung Galaxy S10+ in Cardinal Red
It's called Cardinal Red and like the other colors, it covers the back and sides (the screen still has a black bezel). There's now yellowish tint here like the Cinnabar color.
Samsung Galaxy S10 in Cardinal Red
The new red Galaxys are "coming soon", says leakster @rquandt. Back in the S9 days, a Burgundy Red color was…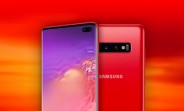 Link: https://www.gsmdb.com/gsmarena/cardinal_red_versions_of_samsung_galaxy_s10_and_s10_surface_online-news-37146.php