May 19, 2019
interview realme sky li ceo realme x
Following the an introduction of the Realme X launch, we got a chance to sit down with Realme Global CEO Sky Li, CMO Xu Qi Chase, and CPO Dereck Wang and learn more about the company's future plans.
Xu Qi Chase, Realme CMO
A lot of customers are confused about Realme's connection with Oppo. Can you talk us through the connection between the two smartphone manufacturers?
We have a lot of experience at Oppo and we want to bring this under a new brand for the young people. Realme is an independent company, regarding Research & Development, Marketing, Product Strategy, etc. We are…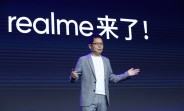 Link: https://www.gsmdb.com/gsmarena/interview_realme_sky_li_ceo_realme_x-news-37112.php