May 16, 2019
samsung unveils galaxy s10 olympic games edition
Samsung has been a sponsor of the Olympic games since 1998 and has a deal in place to sponsor the events to 2028. And it has a tradition – launching a special edition of its flagship for every Olympic games.
This year the Samsung Galaxy S10+ is getting the Olympic treatment. The Prism White version gets the logo of the Tokyo 2020 games on its back (along with carrier Docomo).
This is not the end of the customization, it comes bundled with special Galaxy Buds truly wireless earbuds.
Samsung Galaxy S10+ Olympic Games Edition
Note that only 10,000 units of the "Galaxy S10+…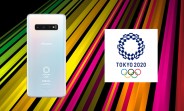 Link: https://www.gsmdb.com/gsmarena/samsung_unveils_galaxy_s10_olympic_games_edition-news-37087.php