May 15, 2019
huawei and samsung reportedly settle their ongoing legal battle
The number one and two smartphone vendors in the World have reportedly settled their ongoing legal battle, as per Nikkei.
Samsung and Huawei had been entangled in more than 40 different disputes concerning 4G and other patents spanning China, the US and the World.
No specifics of the settlement have been made public knowledge, meaning that we don't know if any money changed hands and in what direction. Huawei and Samsung are now said to begin focusing on an agreement for a patent cross-licencing deal for basic technologies.
Just last summer Samsung settled its ongoing legal…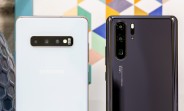 Link: https://www.gsmdb.com/gsmarena/huawei_and_samsung_reportedly_settle_their_ongoing_legal_battle-news-37077.php