May 14, 2019
realme x is a cheaper oneplus 7 with a snapdragon 710 and color os
It's official – the Realme X is here and it's the most premium phone the brand has ever put out. Alongside it the company unveiled the Realme X Lite, which is merely the Chinese name for the Realme 3 Pro.
Think of the Realme X as a Realme 3 Pro with a bigger, now AMOLED screen and the OnePlus 7 (non-Pro) cameras.
Now let's dig in. The Realme X has a 6.5-inch 1080p AMOLED with an in-display fingerprint scanner and no notch. Realme has achieved this by tucking the selfie camera into a motorized pop-up mechanism behind the display.
The in-display fingerprint scanner is an optical…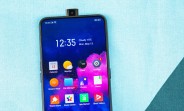 Link: https://www.gsmdb.com/gsmarena/realme_x_is_a_cheaper_oneplus_7_with_a_snapdragon_710_and_color_os-news-37043.php