May 14, 2019
customers who preordered the galaxy fold are getting reward points
Samsung should announce a new launch date for the Galaxy Fold soon, but it seems that people who pre-ordered the foldable flagship are getting antsy. To keep them from canceling their pre-orders, Samsung is offering them reward points.
The Galaxy Fold is $1,980 and Samsung offers 2 points for every $1 spent on smartphones. So, that's a total of 3,960 points. 200 points can be redeemed for $1, which works out to just under $20.
If you pre-ordered, check your Samsung account to see if you received the reward points. You can redeem them at Samsung.com or the Samsung App store….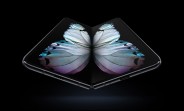 Link: https://www.gsmdb.com/gsmarena/customers_who_preordered_the_galaxy_fold_are_getting_reward_points-news-37050.php