May 12, 2019
xperia 1 goes on preorder in scandinavia bundled with sony wh100xm3 headphones
The Sony Xperia 1 will come bundled with Sony WH-100XM3 headphones, which many regard as the noise canceling king. However, at €300 or so, many may also regard them as pricey.
The bundle will sell for €1,000 on Finnish carrier Elisa. We also found them on Danish store Bilka for SEK 8,000 and Norway's Elkjop for NOK 10,000.
Both Elisa and Bilka list the delivery date as June 3, which is just a few days after the UK release.
Sony Xperia 1 + Sony WH-100XM3 bundle
Note that the headphones bundle is available only if you pre-order. If you can't shell out that kind of cash at…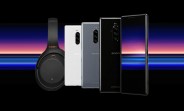 Link: https://www.gsmdb.com/gsmarena/xperia_1_goes_on_preorder_in_scandinavia_bundled_with_sony_wh100xm3_headphones-news-37017.php