May 12, 2019
xiaomi will soon sell its products through vending machines in india
Xiaomi has announced its plans to set up Mi Express Kiosks in India. These are vending machines that customers can use to buy Xiaomi products directly, without having to deal with any middlemen.
These vending machines will be present across metro cities in public areas with greater footfall such as tech parks, metro stations, airports, and shopping malls.
Consumers will be able to purchase products using credit cards, debit cards, cash and UPI.
The company plans to set up these kiosks over the coming months and eventually also expand to more cities across the country.
The…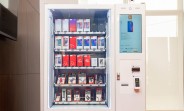 Link: https://www.gsmdb.com/gsmarena/xiaomi_will_soon_sell_its_products_through_vending_machines_in_india-news-37011.php