May 11, 2019
weekly poll results dark themes really are all the rage
Dark themes are awesome, last week's poll has concluded. Some like them for their power efficiency, some for the aesthetics, there's a lot of overlap between these two camps too.
There's a growing number of OLED-based phones, especially at the higher end of the market. Android Q is set to add native support for OS-wide dark theme – which was the default back in the Holo days.
That is a welcome change from the bright white backgrounds of Material design. iOS 13 is rumored to add dark theme support too.
On phones with LCD screens you lose the perk of saving power, but there are still…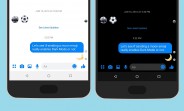 Link: https://www.gsmdb.com/gsmarena/weekly_poll_results_dark_themes_really_are_all_the_rage-news-36985.php