May 9, 2019
alleged asus zenfone 6 appears in videos with dualslider design
The Asus ZenFone 6 is coming on May 16, but it just appeared in two videos with a dual-slider design.
The first video shows the dual selfie camera of the phone which is revealed when the slider is pulled down. And when you slide it up, you see the front-facing speakers. You can also see that the phone has a notchless display, and that its back is home to a dual camera setup below which is the fingerprint scanner.
The bottom of the phone has the USB-C port with the headphone jack residing on its left.
The second video shows the ZenFone 6 with a bit boxier design, but it too has a…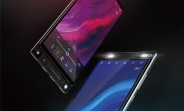 Link: https://www.gsmdb.com/gsmarena/alleged_asus_zenfone_6_appears_in_videos_with_dualslider_design-news-36979.php