May 7, 2019
xiaomi mi 9 se gets moon mode in latest miui update
For some odd reason taking pictures of the moon with a smartphone is a thing. Huawei was the first to start this moon race with the P30 Pro and Xiaomi was quick on its heels by adding the feature to its flagship Mi 9.
After pondering with moon photography with the flagship Mi 9, it seems the more affordable Mi 9 SE is next in line for a dedicated moon mode with the latest MIUI update.
If you wanna test out the feature, you'll need to head over the camera app on your Mi 9 or Mi 9 SE and slide to the AI mode. Then adjust the zoom to 4x and you should see a Moon mode toggle appear….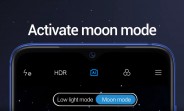 Link: https://www.gsmdb.com/gsmarena/xiaomi_mi_9_se_gets_moon_mode_in_latest_miui_update-news-36955.php