May 7, 2019
mystery nokia ta1182 with 4000mah battery passes through the fcc
An as-of-yet-unannounced Nokia phone has been certified by the FCC. The phone, model name TA-1182 – has already gotten Bluetooth and Wi-Fi certifications, suggesting that HMD is nearly ready to announce it.
The certification reveals the TA-1182's dimensions – 161.24 x 76.24 x 178.36mm – and that it will have a 4,000mAh battery.
Judging by the dimensions we're likely looking at an above-6-inch screen diagonal.
Prior certifications of the TA-1182 have revealed that it will not have Wi-Fi a/ac nor 5GHz but will have Bluetooth 5.0 LE.
As to the Nokia TA-1182's identity, it remains…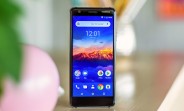 Link: https://www.gsmdb.com/gsmarena/mystery_nokia_ta1182_with_4000mah_battery_passes_through_the_fcc-news-36948.php