May 7, 2019
apple iphone xr 2019 renders show square bump for dual camera on the back
The iPhone XR was the top seller for Apple in Q1 and in Q2, so its successor is highly anticipated. The first 3D renders have surfaced and they show a design that's a 50:50 mix of old and new.
Renders of Apple iPhone XR 2019 in different colors
The back half is new. It shows a dual camera on a square bump, similar to the one seen in the iPhone XI renders (though they have a triple camera). The front half is unchanged – the iPhone XR 2019 will have same screen size, 6.1″, and the same overall dimensions, save for the thickness.
The new model is thinner – measuring 7.8mm for…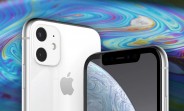 Link: https://www.gsmdb.com/gsmarena/apple_iphone_xr_2019_renders_show_square_bump_for_dual_camera_on_the_back-news-36950.php