May 2, 2019
sprint will sell googles pixel 3 xl soon
Google's Pixels have only been sold directly by one of the 'big four' US carriers for years – we mean Verizon. But now the strategy seems to be ready to change. Last month there were mumblings about T-Mobile soon starting sales of the Pixel 3 and 3 XL, as well as the yet-unannounced Pixel 3a and 3a XL.
And today a purported leak of an internal document from a Sprint store somewhere in the US clearly shows that it will get a retail display fixture at some point in the future, for the Pixel 3 XL.
And why have a retail display if you aren't going to sell the phone it shows? Exactly….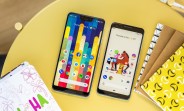 Link: https://www.gsmdb.com/gsmarena/sprint_will_sell_googles_pixel_3_xl_soon-news-36888.php