April 30, 2019
260000 subscribers are using 5g in south korea according to ministry of science and ict
South Korea was the first country to introduce commercially available 5G at the beginning of April and according to the Ministry of Science and ICT, the country's three telecoms now boast a combined 260,000 subscribers for the next gen networks.
Out of the three main carriers, Korea Telecom (KT) takes the leading spot with 100,000 subscribers while SK Telecom and LG Uplus have not disclosed their exact 5G customer count.
The rapid push towards 5G has caused some issues for early adopters, who reported connectivity problems with the first 5G capable device – Samsung's Galaxy S10 5G….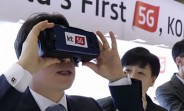 Link: https://www.gsmdb.com/gsmarena/260000_subscribers_are_using_5g_in_south_korea_according_to_ministry_of_science_and_ict-news-36851.php