April 29, 2019
xiaomi redmi note 7 pro gets fortnite support with latest update
After being taunted by the Realme CEO, Xiaomi announced couple of weeks back that it is considering adding support for Fortnite on its mid-range flagship, the Redmi Note 7 Pro.
True to its word, Xiaomi has now released v10.2.10.0 update for the Redmi Note 7 Pro, which among other things, promises support for Fortnite.
We decided to install the update and see how the game performs. The first thing we noticed was that you did not require the update to install and run Fortnite, both of which went through just fine.
The other thing we noticed that performance was remarkably poor…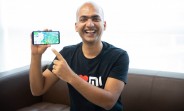 Link: https://www.gsmdb.com/gsmarena/xiaomi_redmi_note_7_pro_gets_fortnite_support_with_latest_update-news-36834.php