April 23, 2019
ifixit tears down galaxy fold finds it fatally fragile
Despite Samsung's recalls, tear down specialists iFixit have managed to get their hands on the Galaxy Fold and open it up a lot more than it already does.
While it's best to read the tear down in its entirety, here are some of the talking points raised by the article:
One of the areas for concern are the gaps all around the phone. While we already know the Galaxy Fold is not ingress protected, the gaps are rather large around the hinge and may potentially be a location for small particles to get stuck and jam the mechanism or even damage the display.
The phone has two batteries,…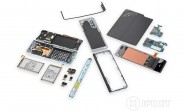 Link: https://www.gsmdb.com/gsmarena/ifixit_tears_down_galaxy_fold_finds_it_fatally_fragile-news-36735.php