April 22, 2019
samsung galaxy s10 beats huawei p30 pro in a speed test
It's very hard to perform a perfect speed test where a single unresponsive app or a random stutter doesn't foil the entire test. But as speed tests go, the PhoneBuff-styled one is the most trustworthy around the web – it's done with mechanical arms and the test is ran multiple times to secure as fair a result as can be.
In the latest PhoneBuff speed test the Huawei P30 Pro goes against the Snapdragon 855-powered Samsung Galaxy S10+, both using 8GB of RAM and both running UFS 2.1 storage.
Looking at the chipsets we have a 7nm architecture on both (while the Exynos 9820 is 8nm).
The…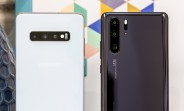 Link: https://www.gsmdb.com/gsmarena/samsung_galaxy_s10_beats_huawei_p30_pro_in_a_speed_test-news-36711.php