April 18, 2019
sony xperia 1 promo video shows off its triple camera
The Xperia 1 will be Sony's first triple camera phone when it launches next month. A short-but-sweet promo video shows what those three cameras can do.
The main shooter has a 26mm f/1.6 lens, but you can capture more of the scene with the ultra wide 16mm lens or zoom in with the 52mm tele lens. Sony took the phone to the Vessel at Hudson Yards to show what it can do. The crazy Escherian staircases are great at highlighting the differences between the three focal lengths.
Note that the video claims the ultra wide-angle 16mm lens has an f/1.6 aperture while SonyMobile.com says f/2.4….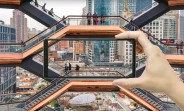 Link: https://www.gsmdb.com/gsmarena/sony_xperia_1_promo_video_shows_off_its_triple_camera-news-36637.php