April 18, 2019
google and amazon end stalemate fire tv to get youtube while prime video to add chromecast support
Google and YouTube have ended their stalemate, with each adding support for a key feature of its competitor.
Google will be releasing the YouTube app on the Fire TV devices and Fire TV Edition smart televisions over the next few months. The app will support up to 4K 60fps HDR content on compatible models. The YouTube TV and YouTube Kids apps will also be coming later this year.
Meanwhile, users will soon be able to cast Prime Video content from their mobile app to Chromecast and Chromecast enabled devices such as televisions and media players in 4K.
The Amazon Google cold war…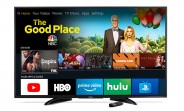 Link: https://www.gsmdb.com/gsmarena/google_and_amazon_end_stalemate_fire_tv_to_get_youtube_while_prime_video_to_add_chromecast_support-news-36641.php