April 15, 2019
samsung has finished the development of nextgen 5nm euv node
Samsung just announced that it has successfully completed the development of its next-gen 5nm EUV manufacturing process and it's ready to ship samples.
Samsung claims that the 5nm node boasts 25% better logic area efficiency with 20% lower power consumption or around 10% higher performance for the same power draw. The 5nm node is based on the same EUV lithography process and it will be manufactured at Samsung's Hwaseong foundry.
The foundry, by the way, will expand its capacity by the second half of this year and ramp-up production in early 2020.
It's still too early to tell but…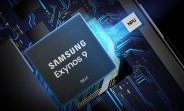 Link: https://www.gsmdb.com/gsmarena/samsung_has_finished_the_development_of_nextgen_5nm_euv_node-news-36576.php