April 14, 2019
google pixel 3a and 3a xl canadian pricing leaks online
A snipped has surfaced, revealing what could be Canadian pricing of the upcoming Google Pixel 3a and 3a XL midrangers.
The Pixel 3a (Sargo) will cost CAD $649 (~€430/$490) while the bigger Pixel 3a XL (Bonito) is CAD $799 (~€530/$600). These prices fall in line with recent whispers of a €450 German price for the Pixel 3a with 4GB of RAM and 64GB of storage.
The Google Pixel 3 and Pixel 3 XL are CAD $999 and CAD $1,129 so the purported CAD $649/$799 prices look credible.
The Google Pixel 3a will have a 5.6-inch 1080x2220px display while the Pixel 3a XL will have a 6.0-inch…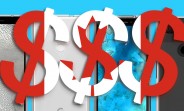 Link: https://www.gsmdb.com/gsmarena/google_pixel_3a_and_3a_xl_canadian_pricing_leaks_online-news-36549.php