April 12, 2019
samsung galaxy a2 core price leaks it will be cheaper than the j2 core
The Samsung Galaxy A2 Core is nearing launch day and the latest set of rumors confirm the specs we saw a while ago and add a price tag to the picture.
This Android Go edition phone will launch in India at INR 5,300 (that's around $76/€68). This is lower than the Galaxy J2 Core, Samsung's first Go edition phone, which launched at INR 6,000 and was later discounted to INR 5,500.
The Galaxy A2 Core will have a plastic build and a small screen – a 5″ LCD with qHD resolution. It's not small on absolute terms, but it is about as small as modern smartphones get.
It will run Android 9…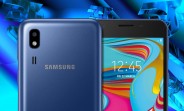 Link: https://www.gsmdb.com/gsmarena/samsung_galaxy_a2_core_price_leaks_it_will_be_cheaper_than_the_j2_core-news-36529.php