April 11, 2019
latest patch improves fingerprint sensor performance on galaxy s10 and s10
Samsung has released an update for the Galaxy S10 and the Galaxy S10+, which improves the performance of the fingerprint sensor.
The update was released yesterday as an urgent update, which made it appear as a popup on the screen. The update appears from the Galaxy Store app, rather than the usual Software update channel and is rather small in size at just 6.9MB. The update patches the software instantly without having to reboot the device.
There is not much in the way of patch notes but the popup did say it was a biometric security patch for the fingerprint sensor specifically….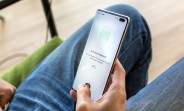 Link: https://www.gsmdb.com/gsmarena/latest_patch_improves_fingerprint_sensor_performance_on_galaxy_s10_and_s10-news-36518.php