April 10, 2019
the huawei mate x will be available on three uk
UK carrier Three has confirmed that it will offer the Huawei Mate X in the second half of this year. The exact date is still unknown, but the price will be around €2,300 (so £1,900-2,000).
The Mate X is a two-in-one phone, it's Huawei's first foldable handset as well as its first 5G phone. The latter part obviously depends on having access to a 5G network, Three is working on it.
Rival EE has exclusivity on the LG V50 ThinQ 5G and will also offer (non-exclusively) the Samsung Galaxy S10 5G. OnePlus' yet to be announced 5G phone will also be on EE.
While you wait, you can check…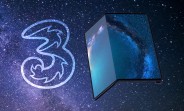 Link: https://www.gsmdb.com/gsmarena/the_huawei_mate_x_will_be_available_on_three_uk-news-36503.php