April 9, 2019
oppo f11 pro climbs to the mt everest base camp to shoot some amazing photos
Mt. Everest is a beautiful place, but most of us will never go there – we only have photos and videos shot by others to look at. And while some add bulky camera equipment to their already heavy luggage, others go up with just a phone.
Spotting the Perfect Mountain • The Artistic Canvas • The Himalayan Landscape • The First Glimpse of Camp
Dr. Nima Namgyal Sherpa and photographer Adam Meng trekked to the Everest Base Camp with an Oppo F11 Pro in hand and shared some of the photos they took.
Porters along the journey • Wind so Wild
The mountainscapes look…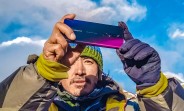 Link: https://www.gsmdb.com/gsmarena/oppo_f11_pro_climbs_to_the_mt_everest_base_camp_to_shoot_some_amazing_photos-news-36464.php