April 9, 2019
huawei mate x will be available in june was briefly listed on vmall
The Huawei Mate X will be available later this year, but the company has been pretty vague about the launch date. A slip-up on Vmall (a Huawei-run online retailer) may have spoiled the mystery, however.
A page for Huawei's first foldable phone (which is also its first 5G phone) went up, showing a June release date. That page has since been taken down.
Officially, the Mate X will be available in mid-2019 at a price of €2,300. The specs of the phone are, of course, no secret – we even have a video preview if you want more details.
Via 1 (in Russian) | Via 2 (in Chinese,…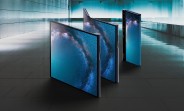 Link: https://www.gsmdb.com/gsmarena/huawei_mate_x_will_be_available_in_june_was_briefly_listed_on_vmall-news-36465.php