April 8, 2019
amazons spring deals offer cheap ipads and android phones
Amazon is doing a bit of Spring cleaning and that means low prices on some leftover electronics. Here are a few interesting offerings.
In the US, you can grab an Apple iPad (128GB, Wi-Fi) for just $330. The 32GB version goes down to $250, but is currently backordered.
In the UK, a large number of Android phones as well as iPhone 7 and 7 Plus units are discounted up to 35%. You can see the full list here. Long story short, an iPhone 7 (32GB) is £410, a Galaxy S8 (64GB) is £400 and a OnePlus 6 (64GB) is £390.
A Sony Xperia XZ2 Compact may be the last of the petite flagships, it…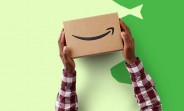 Link: https://www.gsmdb.com/gsmarena/amazons_spring_deals_offer_cheap_ipads_and_android_phones-news-36462.php