April 7, 2019
the oppo reno will have a dual texture glass back
The Oppo Reno will have a glass back with a dual texture finish, a new teaser has revealed. It will have a grippy matte finish on most of the back with a decorative glossy line for the Oppo logo.
The Oppo Reno will have a dual texture glass back
The company has scheduled a "new product launch" event to unveil the series on April 10, which it announced with an artsy video (you can see it on Weibo). However, this doesn't align with the April 24 date from last week. Either this is a split between teaser event/full reveal or Chinese event/European one.
By the way, the color option…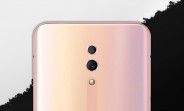 Link: https://www.gsmdb.com/gsmarena/the_oppo_reno_will_have_a_dual_texture_glass_back-news-36434.php