April 6, 2019
week 14 in review first nokia with punch hole screen oppo reno galaxy a90
It's been another busy week full of phone news so let's take a look back at the clutter and focus on the major stories.
Samsung was in the spotlight with a couple of interesting relevations. The biggest was a video of Samsung's alleged first slider phone, the Galaxy A90. It has a slide-out rotating camera that's used both as the rear and the selfie camera.
Additionally, a story broke that Samsung is working on two Galaxy Note 10 devices for the fall – one with a 6.4-inch display (same size as the Galaxy Note 9) and one with a larger 6.7-inch display.
Next is an interesting report…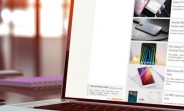 Link: https://www.gsmdb.com/gsmarena/week_14_in_review_first_nokia_with_punch_hole_screen_oppo_reno_galaxy_a90_-news-36416.php