April 4, 2019
snapchat introduces snap games and snap originals programs
Snap Inc. just held its Snap Partner Summit and announced a dizzying array of new features that are coming to the platform.
Let's first start with Snap Games. Snap Games are mobile games that you can play within the Snapchat app. These are multiplayer games that you can play with your friends and you can text or voice chat while playing.
The feature is launching with six titles, Bitmoji Party, Tiny Royale (Zynga), Snake Squad (Game Closure), C.A.T.S. Drift Race (ZeptoLab), Zombie Rescue Squad (PikPok), and Alphabet Hustle (Spry Fox).
The other new feature is Snap Originals….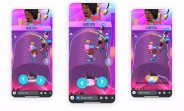 Link: https://www.gsmdb.com/gsmarena/snapchat_introduces_snap_games_and_snap_originals_programs-news-36401.php