April 2, 2019
the ipad mini 5 stays true to its apple heritage with horrendous reparability
Apple doesn't want you to service its products at home. That's evident by the sheer difficulty of the task of opening up an Apple product.
Take the new Apple iPad Mini 5, which was torn down by iFixit – it got a repairability score of 2 out of 10 because of the huge amount of adhesive used to glue together the slate, because the battery is quite difficult to get to, and because you need to remove the home button in order to swap out the display.
Hey, at least all the screws can be undone by a single Phillips screwdriver.
Despite its unfriendliness to would-be repairers, the Apple…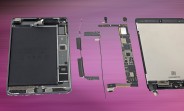 Link: https://www.gsmdb.com/gsmarena/the_ipad_mini_5_stays_true_to_its_apple_heritage_with_horrendous_reparability_-news-36352.php