April 2, 2019
oneplus working on dc dimming feature to battle lowbrightness oled pwm
OnePlus is working on enabling DC dimming on its smartphones in a future update. This was revealed by OnePlus CEO Pete Lau, who was shown a demo of the feature.
To clarify, at low brightness OLED panels will pulse and flicker due to a process called Pulse Width Modulation (or PWM), making them uncomfortable for some. An alternative to using PWM is DC dimming. It reduces the DC current to the OLED panel, lowering its brightness and to a degree, its quality.
Xiaomi notably used DC dimming in the Black Shark 2 smartphone and will reportedly bring the feature to the Mi 9.
Back to…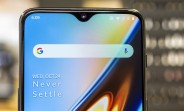 Link: https://www.gsmdb.com/gsmarena/oneplus_working_on_dc_dimming_feature_to_battle_lowbrightness_oled_pwm-news-36361.php