April 1, 2019
our huawei mate x video review preview is up
The first time we only spent a little time with the Huawei Mate X and we were barely allowed to touch it. Now, however, as the foldable flagship inches closer to its market release we got to enjoy its company for longer.
Angie is now ready to answer all you pressing questions about the Mate X in what turned out to be one of our longest videos yet.
As it turns out the display crease is hardly an issue and the device is rather comfortable to handle in all modes. However, the sound the hinge makes is a little disturbing.
We are not going to spoil this any further – take a comfortable…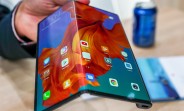 Link: https://www.gsmdb.com/gsmarena/our_huawei_mate_x_video_review__preview_is_up-news-36348.php