March 31, 2019
lgs v50 thinq 5g will go on sale in korea on april 19
LG will start selling the V50 ThinQ 5G starting with its home market of South Korea on April 19. The company's first 5G phone will cost KRW 1.19M (€940/$1,060) for the sole available 6GB + 128GB model.
LG V50 ThinQ 5G units bought before May will get a bundled Dual Screen accessory that's normally worth KRW 219,000 (around €172/$193) for free.
Samsung's Galaxy S10+ 5G will go on sale in Korea a full two weeks earlier on April 5. It will cost KRW 1.39M (€1,090/$1,225) for a 8GB + 256GB or even KRW 1.55M (€1,215/$1,365) for a 8GB + 512GB model.
The LG V50 ThinQ is powered by a…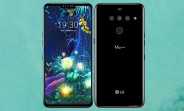 Link: https://www.gsmdb.com/gsmarena/lgs_v50_thinq_5g_will_go_on_sale_in_korea_on_april_19-news-36317.php