March 28, 2019
apples new airpods deemed unrepairable by ifixit
Just days after iFixit praised Samsung's Galaxy Buds for being quite serviceable (with a 6 out of 10 repairability score), they tore down the new 2019 Apple AirPods and got a completely opposite result.
With a repairability score of 0 out of 10 the new AirPods are practically non-serviceable. You can't swap out the battery, you can't fix any inner part that has been damaged and they're nearly impossible to recycle because of the hard-to-get batteries.
Because of all of this, iFixit names the AirPods 2 a consumable/disposable item.
Here's the complete video and there's a Source link…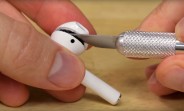 Link: https://www.gsmdb.com/gsmarena/apples_new_airpods_deemed_unrepairable_by_ifixit_-news-36294.php