March 28, 2019
apple officially cancels airpower after an eighteen month delay
Eighteen months after it was first unveiled, Apple has announced that it is cancelling AirPower.
In a statement emailed to TechCrunch, Apple's Senior Vice President of Hardware Engineering — Dan Riccio — said,
After much effort, we've concluded AirPower will not achieve our high standards and we have cancelled the project. We apologize to those customers who were looking forward to this launch. We continue to believe that the future is wireless and are committed to push the wireless experience forward.
AirPower was announced back in September 2017, in the keynote alongside the iPhone…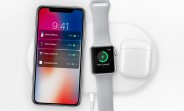 Link: https://www.gsmdb.com/gsmarena/apple_officially_cancels_airpower_after_an_eighteen_month_delay-news-36297.php