March 27, 2019
pocophone f1 overtakes oneplus 6 in india in q4 last year says idc
Move over, OnePlus 6, there's a champ in town. Based on data from IDC, the Pocophone F1 was India's best-selling smartphone over INR 15,000 in terms of online sales for the final quarter of 2018.
Manu Jain, the Managing Director at Xiaomi India, posted a cheeky celebratory tweet, saying "The Champion of Speed doesn't settle for 2nd place", a nod at the OnePlus motto.
By the way, Poco is currently running a promotion, selling the 6/128GB model for INR 21,000 (normally the model goes for INR 23,000). This is the last day of the promo.
Source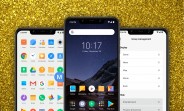 Link: https://www.gsmdb.com/gsmarena/pocophone_f1_overtakes_oneplus_6_in_india_in_q4_last_year_says_idc-news-36266.php