March 26, 2019
samsung galaxy s10 report lte issues
Samsung launched the Galaxy S10+ back in February and the device is already out and selling. Plenty of people decided to go for the phone with three cameras on the back, in-display dual selfie shooter and plenty of other impressive specs, but it appears the picture is not so bright after all.
Android Police gathered plenty of complaints all over the internet where new owners complain about poor reception and other connectivity issues.
Most of the posts online are about the signal strength on Sprint, however, AT&T and T-Mobile customers also claim to have poorer reception….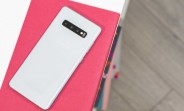 Link: https://www.gsmdb.com/gsmarena/samsung_galaxy_s10_report_lte_issues-news-36239.php