March 26, 2019
lenovo z6 pro confirmed to come with 100mp camera
Remember that bizarre presentation from Lenovo during this year's MWC? Well, it turns out that the 100MP camera that was kind of teased will make it to the upcoming Lenovo Z6 Pro.
There's still no sign of the phone itself, but Lenovo's VP teased the handset on Weibo with a hashtag which translates into 100MP.
This doesn't come as a surprise since even Qualcomm hinted at upcoming 100MP cameraphones this year.
In any case, we suggest you stay vigilant as often manufacturers exaggerate in their marketing campaigns. It could very well be some kind of image stacking trickery but…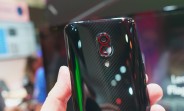 Link: https://www.gsmdb.com/gsmarena/lenovo_z6_pro_confirmed_to_come_with_100mp_camera-news-36252.php