March 19, 2019
energizer power max p18k pop with 18000 mah battery now available through indiegogo
The Energizer Power Max P18K Pop that was announced last month with the world's largest smartphone battery is now available through crowdfunding website Indiegogo.
Buying the P18K Pop through Indiegogo gets you 21% off on the retail price which translates to a final price of $549. However, this offer is only available for the first 200 backers. After that, this phone costs $599.
The company aims to deliver the P18K Pop in October 2019, but there could be delays if the company faces certification and production issues.
The P18K Pop packs an 18,000 mAh battery which is its biggest…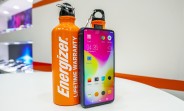 Link: https://www.gsmdb.com/gsmarena/energizer_power_max_p18k_pop_with_18000_mah_battery_now_available_through_indiegogo-news-36119.php