March 19, 2019
apple unveils new airpods with handsfree siri also a new qi wireless charging case
Apple is on a row – today it's upgrading the AirPods. The second generation truly wireless earbuds comes with (optional) wireless charging, improved battery life and hands-free "Hey, Siri".
The company unveiled the Qi wireless charging case. It's optional because the new AirPods come with a regular case by default, this combo costs $160 (charging is done over a Lightning cable). If you want the new AirPods plus the Qi case, the cost goes up to $200.
There's some good news for owners of first generation AirPods – the Qi case is backwards compatible and available on its own for $80….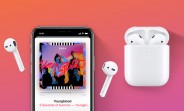 Link: https://www.gsmdb.com/gsmarena/apple_unveils_new_airpods_with_handsfree_siri_also_a_new_qi_wireless_charging_case-news-36125.php