March 18, 2019
the bezels on the oppo reno will be almost as thin as those on the oppo find x
The Oppo Reno will have 93.1% StB ratio according to Oppo VP Shen Yiren. Today he posted more details about it – the phone will have bezels almost as thin as those on the Oppo Find X.
The top bezel will be 1.8mm, the side bezels just 1.63mm. The bottom bezel, which some call the "chin", will be 3.5mm. For comparison, the Find X has a 3.4mm chin and the iPhone XS 3.98mm.
Shen posted the image above, which shows the Reno on the right and the Find X on the left.
Someone in Weibo's comment section made this collage to compare the three phones:
These bezels will surround a 6.4″…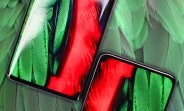 Link: https://www.gsmdb.com/gsmarena/the_bezels_on_the_oppo_reno_will_be_almost_as_thin_as_those_on_the_oppo_find_x-news-36100.php