March 18, 2019
hmd teases imminent nokia 9 pureview launch in india
Nokia India has posted a teaser video for the Nokia 9 PureView with the closing line 'Stay tuned!'.
This isn't at all surprising as we were expecting Nokia to release its new flagship in India sooner or later. It means that HMD will likely detail pricing and availability in the following days.
It's also likely that Nokia India will drop new teasers as the local launch draws near. The only bit of information we really need is the price.
The Nokia 9 PureView is already shipping in some markets and is a solid smartphone with a reasonable price (around €630 in Europe). It has a…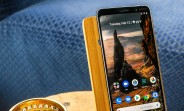 Link: https://www.gsmdb.com/gsmarena/hmd_teases_imminent_nokia_9_pureview_launch_in_india-news-36101.php