March 17, 2019
samsung galaxy a2 core visits the fcc it will have a 496 screen
The Samsung Galaxy A2 Core experienced a pretty detailed leak a few days ago, but now even more info has surfaced before the official unveiling on March 22. This one is reliable since it comes from the FCC.
Galaxy A2 Core dimensions • About screen
The Galaxy A2 Core will be an Android Go edition phone, and a compact one at that. The screen measures 4.96″ and is housed in a 141 x 71mm body. It will launch with Android Go 8.1 judging by the About screen visible in one of the documents. That will run on an Exynos 7870 chipset with 1GB of RAM.
Samsung Galaxy A2 Core image from…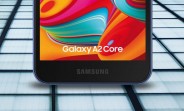 Link: https://www.gsmdb.com/gsmarena/samsung_galaxy_a2_core_visits_the_fcc_it_will_have_a_496_screen-news-36076.php